+375 (17) 245-80-92, +375 (17) 398-92-58

Contact us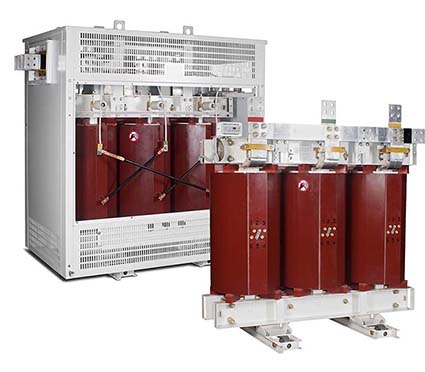 ТСГЛ20, ТСЗГЛ20, ТСЗГЛФ20, ТСЗГЛ21, ТСЗГЛФ21, ТСДГЛ20, ТСДЗГЛ20, ТСДЗГЛФ20, ТСДЗГЛ21, ТСДЗГЛФ21 up to 10 kV voltage class
Power:

400 … 1600 kV·A

Voltage:

HV: 6 … 10.5 kV

LV: 0.4 kV

Wiring diagrams and connection groups:

Y/Yn-0
D/Yn-11

Warranty:

5 years

Purpose:

Three-phase dry power transformers with geofole cast insulation with a voltage of up to 10 kV are designed to convert electricity in the networks of power systems and consumers of alternating current electricity of a nominal frequency of 50 Hz.

Transformers are equipped with windings of the company "Siemens", the material of the windings is copper.
Ecological safety, fire safety, profitability, low noise level
Overheat protection and automatic cooling system control
Full testing during production
Transformers the power dry three-phase heatlevel the cast resin transformers with voltage up to 10 kV are intended for transforming of electric energy in networks of power systems and consumers of electricity alternating current with a nominal frequency of 50 Hz.
Transformers windings are equipped with Siemens material of windings – copper.
For the windings used epoxy compound with quartz filler (geafol). Additional windings are reinforced with fiberglass, which eliminates the occurrence of cracks in the epoxy compound, even when overload of transformers. Geafol has no adverse effect on the environment, does not emit toxic gases even when exposed to arc discharges. Due to this insulation of the windings maintenance-free.
For measurement and temperature control transformers are supplied with the device Thermodat-11МЗТ1 with four temperature sensors of type PT100, integrated in the LV winding and the magnetic core.
The device is equipped with interface RS-485 MODBUS RTU, connected to an alternating voltage of 220 V.
When dangerous temperature increase is the operation of the output relay control circuits alarm systems. If the temperature rise continues and the temperature exceeds the maximum allowable value, an alarm output control relay alarm (emergency shutdown of the transformer).
At the request of the customer can be installed other types of devices for temperature control.
Transformers ТСГЛ20, ТСДГЛ20 (without protective cover) is equipped with temperature sensors with a cable length of ten meters, it allows you to move the thermal protection switch or the control box of fans for ТСДГЛ20 for enclosing structures or other structural elements of the substation (at a distance of up to six metres) to ensure it is safe and convenient maintenance. At the request of the customer can be installed other types of thermal protection.
Transformers ТСДГЛ20, ТСДЗГЛ20, ТСДЗГЛФ20, ТСДЗГЛ21, ТСДЗГЛФ21 equipped with a forced cooling system consisting of a control box and the cooling fan windings. The use of forced ventilation allows for increasing the capacity of dry-type transformers up to 40 %.