+375 (17) 245-80-92, +375 (17) 398-92-58

Contact us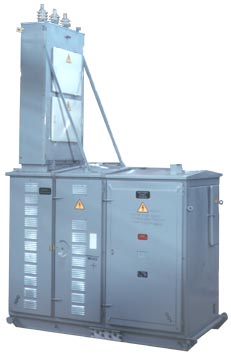 Unitized TS of КТППН series
| | |
| --- | --- |
| Rated power: | 100; 250 kVA |
| Voltage: | 6 (10) kV |
| Warranty period: | 3 years |
| Purpose: | rating 100-250 kV.A, with a voltage 6(10) kV |
Высоковольтный ввод в подстанцию - воздушный.
Выводы отходящих линий НН и СН - кабельные.
Полный цикл испытаний внутри производства
КТППН series unitized transformer substations for immersion electric pumps are designed for energy supply, control and protection of electric motors for immersion electric pumps rating 16 _ 125 kW, on separate oil wells. Substations can be operated under moderate and cold climatic conditions (from – 60o C to +40o C). If required, they can be used for power supply of electric motors for pumping jacks with load current up to 60 A. HV lead-in is of air (overhead) type, 0.4 kV outgoing lines are of cable type. КТП are equipped with interlockings providing safety of attending personnel. КТП is furnished with a facility allowing to roll in/roll out a power transformer. КТП are equipped with plug-and-socket connectors and switches for connecting current collectors of 380 V three-phase voltage with load current to 60 A, and of 220 V single-phase voltage with current to 40 A. КТППН substations to be installed on tamped sites or on footings.